My God, was I relaxed or was the bed at the Radisson Blu at Stansted Airport just plain comfortable? My latest trip to Slovenia might have had an embarrassing start or potential difficulties in reaching Ljubljana after, for the first time that I can remember, I not only had an excellent night's sleep before an early morning flight but slept through the alarm. All turned out okay and I was actually quite pleased for the comparatively good night's sleep which finally ended at 4.45am.

EasyJet is one of only a couple of airlines which fly directly to Ljubljana and their flight was fine. Arrival at Ljubljana was greeted with teeming rain but brightened by the friendly rep from Zup Prevozi who offer a minibus service directly to the delightful Lake Bled from Ljubljana Airport. Lake Bled was looking a lot better when the minibus arrived and the afternoon turned out beautifully showing this glorious lake with the mystical island and high castle at more or less its best.
I stayed at the three star Astoria Hotel. Actually, I should have stayed there last year but postponed the trip as the hotel subsequently went through a period of refurbishment. It was certainly worth the wait. Now the hotel boasts a brand new spa, the room I had was very comfortable and the buffet breakfast and four course evening meal very decent. The hotel employs students who are naturally keen to impress so there is a very friendly atmosphere and I must thank Alisa Ceric for her generosity in giving me a bargain break. Say nothing about travel agents... My good fortune notwithstanding, the hotel is in a convenient position close to the lake and just a minute or two's walk from the bus station which offers plenty of services to Ljubljana and the other main tourist places of Bohinj and Kranjska Gora.

I am hard pressed to find a nicer lake than Bled. I have read a lot about it, seen many photos of it but it is a magical place. I managed to walk around it in around an hour and a half getting regularly way laid by photo stops. The autumn colours of the trees in the dense forest around the lake and, to a degree, on the island, made it a spectacular sight especially when the weather was good. However, maybe the aspect of my first afternoon which I will remember most was a visit to President Tito's residence on the lake shore where he lived. Last year, whilst in Croatia, I had visited his birthplace in Kumrovec and, this year, the Villa Bled, now a luxury hotel, was the place I visited where he spent essentially his last years. I traipsed in wearing walking boots and asked if I might see some of the public rooms and was allowed to do so there and then despite my somewhat shoddy appearance. There are memories of the late leader of the Partisans and subsequent President and I found it a memorable experience.

Sadly, the first full day's weather was appalling and, whilst I went to the ski resort of Kransjka Gora, on the border of Austria and Italy, I pretty much turned back quickly and took the next bus back as the rain was so heavy. The town looked nice and would have been more welcoming in better weather.

The next day, however, was much better and I took another bus through parts of the delightful Triglav National Park to Bohinj whose small church is one of the most photographed places in Slovenia. Despite my meticulous planning, I had a bit of a disaster thinking that, instead of getting off at the church in Ribcev Laz, I would do so at the next stop a minute later. There wasn't a stop a minute later but was at the end of the lake around four kilometers away. With just fifty minutes before the bus to Ljubljana where I had set my heart on going, it meant trying to run back in Ribcev Laz in time for some photos. Stamina for walking I may have but I have little or no running ability and I swear that, despite making the bus and taking a few photos, it did me the world of harm. Thank God for the sauna later on.

The two hour bus trip to Ljubljana saw me in by midday and the old town was a delight. Entrance to it is close to the bridge presided over by four decorative dragons and pretty fearsome statues they are too and no wonder it's one of the most photographed places in Ljubljana. The old town is surrounded by a canal with the castle atop the hill looking down over distinctively coloured houses, churches and shops. It's a very colourful and happy place, lots of souvenirs for sale – which was noticeably absent in Bled – and, like other parts of Slovenia, everything from eating and drinking to souvenir buying is very reasonably priced. Ljubljana is very much worth a visit.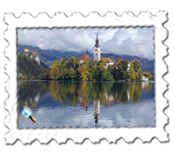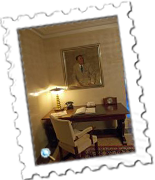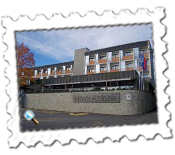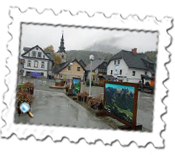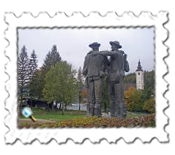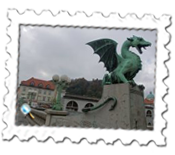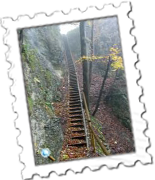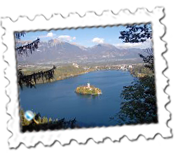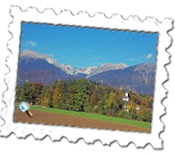 My day continued with a walk to the viewing point of Osojinca above Bled. It looks more daunting from a distance but actually isn't quite as formidable as you might think although the last part is by a fixed ladder of around eighty steps to reach the viewing point. Very worthwhile today from this higher point and the possibilty, on a fine day such as I had, of some wonderful photos. But, yes, after around sixteen kilometers of walking on this day, a Lasko beer and sitting in the sauna to rest my aching limbs after the running exertions went down a treat. One of my colleagues later wondered whether this running lark was going to take off now but I'm afraid that the answer is a very emphatic no. I had a good kip on the bus to Ljubljana.

Departure on the following day was quite early in time for the 11am easyJet flight and everything went smoothly. I had read that Slovenia could be compared favourably to Switzerland and it's hard to dispute that. It would be nice to return there at some stage.