An end-of-year break - but not the last - was to Bavaria and to enjoy the delights of Berchtesgaden for the first time since the late 90s.
It didn't start especially well due to British Airways schedule changes. The first change meant an outbound flight a day later than booked so, although as a travel agent I understand that the return flight cannot be used alone, that reservation had to be cancelled and refunded and the return flight booked again. That too was later changed by a day to add to other time changes (albeit on the same day) and, in the end, I just accepted it and had a shorter holiday. I made a note to book to Munich next time rather than Salzburg.
I took a very early morning easyJet flight to Munich and from there the train to Berchtesgaden. The flight had arrived in twenty or so minutes early which allowed me to take a train an hour earlier than I had anticipated.
I stayed in the Hotel Bavaria which was very nice and friendly. I had booked into another hotel but late on they contacted me to say that they were closing early but had re-booked me into the Bavaria. The Bavaria Hotel's owners were most friendly and let me talk in German and, despite their speaking quite quickly, I coped well and enjoyed the opportunity.
One bonus was the guest card which allowed free transport on buses to the main sights of Konigssee and Ramsau and a flat fee of 2 euros return to go to Bad Reichenhall, a half-hour train trip from Berchtesgaden. I admit to thinking that this must have been duff information and asked a lady twice in the ticket office for verification. The 2 euro return fare was correct and is specifically as an encouragement for guests to travel.
The first day was spent between Konigssee and Ramsau (and, yes, both involved the free bus). Actually, this was always going to be the plan and it proved to be a nice day. I have a thought of returning for longer next year so checked out the walking possibilities on the Konigssee and it certainly seems possible. I didn't, though, take the quite expensive boat trip to St. Bartholomew's Church further along the lake but did go to the viewpoint which did offer a distant view of it.
Another famous Bavarian picture postcard view is of the church at Ramsau, especially in winter. It was slightly too early for snow but was nonetheless as attractive as I had remembered it around twenty years ago. Ramsau is not big but is a lovely spot and I enjoyed a visit to the church.
The afternoon was spent in the Bad Reichenhall spa, Rupertustherme. It is nice and relaxing but not especially cheap although the Berchtesgaden guest card did give a slight discount. I had hoped to try the Berchtesgaden Watzmann Therme but, in keeping with everything which had changed on this short trip, they took that week to close it for refurbishment...
The second full day of the trip was spent in Austria in Lofer. This was another opportunity for further photos for my Where Eagles Dare collection. The day started off slightly precariously as the train, which had been waiting on the station for a good amount of time and which started in Berchtesgaden, still managed to leave late. With less time to find the onward bus stop in a minor Bad Reichenhall station, I was actually relieved to stumble upon it when I saw a main road signposted to Lofer behind the station. It was only through good luck that I found it at all otherwise I wouldn't have gone due to the bus timetables.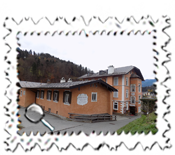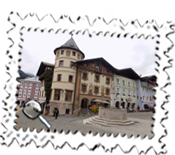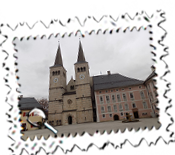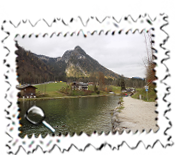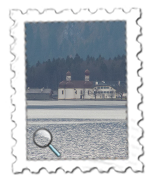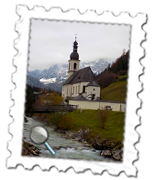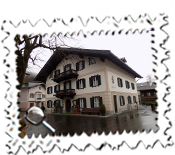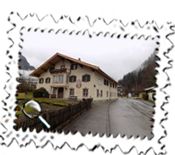 Once there, I enjoyed seeing the Villa Egger, a hotel whose exterior was used for one of the film's scenes. Since I last visited almost ten years ago, information has been put on many of Lofer's buildings so we can now read about the possibility of staying in the Clint Eastwood room at the Villa Egger. I stayed there last time and it is a very nice place.
I saw the other buildings which appear in the film but, out of necessity from the bus timetables, had to stay in Lofer for four hours. It wasn't an especially pleasant day but was essentially dry so I had a walk to St. Martin which made for a nice walk of one and a half hours or so.
There was a commotion on the last night with lots of fire engines and ambulances roaring down the main street near the hotel. I was alarmed to look out and see a fire blazing in the woodland opposite the hotel. It wasn't that close but I was shocked to be able to see it quite visibly from my room. It turned out that a farm had gone up in flames and made the news the following day.
I had an early start to reach Salzburg Airport for the 11 a.m. British Airways flight and ended up in Salzburg for a while to avoid arriving far too early at the airport. For all the woes of the changes, the flight left early and arrived early thus allowing me to make another train an hour early which of course was welcome so it did make up for some of the pain of having to re-book some of the travel arrangements a few months previously.