Last July, I arrived home from work to be given an Imagine Cruising brochure by my mum and asked what I thought about a week in India and a cruise around Dubai. Bemused, I said that the £1500 price tag excluded flights so the conversation was dropped. Thinking about it that night, I wondered whether my mum's question was a gentle hint to a get a new job. Or maybe did she, a traveller within Europe but never beyond, actually want to go to India? I asked her the next day why she had brought the subject up and, yes, she did want to go to India but dropped the idea of the cruise.
Seven months later, we were in India. My fortieth time, my mum's first. My late father had been six times and had influenced me to go so we can now all say that we have visited the vast country which is India. It had taken a lot of planning: oh dear, I shamelessly go as conveniently, comfortably yet as cheaply as possible but I had to ensure that Mum, not a regular air traveller, had to be as comfortable as possible. Emirates, as always, provided the best option and we broke our outward journey in Dubai for a couple of days.
Thanks to the Emirates London Sales Manager, Graham Pepe, who kindly arranged for us to visit their Gatwick lounge, our journey started beautifully. The gin bottle in the lounge survived our visit - maybe it should have at 8 a.m. but, to spoil a good story, it was son rather than mother who insisted upon the early morning fortification.
Okay, son was concerned about mother - and vice-versa - throughout the holiday but we had little to actually concern ourselves over. The flight to Dubai was most comfortable, we enjoyed the film Inferno and the flight went quickly. The Emirates ICE entertainment system is quite phenomenal really and, like my ordered life, I have a set routine on an Emirates flight. 1979 No. 1 hits to start: Video Killed the Radio Star followed by I Don't Like Mondays and the on to other hits of the 70s. I'm showing my age, aren't I? The Airbus A380 is a most comfortable aircraft: one wonders how something so apparently cumbersome makes it off the runway but it does and was great and everything went smoothly.
We stayed in the Al Farej Hotel, a comparatively new hotel in Bur Dubai which was excellent. Okay, it took a bit of time to check in but the rooms were excellent, the staff friendly and it was a very good choice. A shame that Dubai taxi drivers do not seem to have Sat Nav as I am sure the majority had when I last visited but we did reach the hotel after the odd hitch.
Mum's birthday present was a visit to the 124th floor of the Burj Khalifa. Son had seen it before - and got lost before - so found it a tad fraught finally reaching the correct place in the mall to go down in a lift to go up in the world's highest building. It may have been drizzly but the views were still wonderful and Mum was pleased with her birthday present and enjoyed the formidable views.

We took a taxi via the Burj Al Arab to Dubai Marina to see my friend, Shailja Kalia, in the Address Hotel where she very kindly treated us to a superb lunch. It is a lovely, luxury hotel and our lunch - mine predictably Indian with too much pickle according to Shailja - was terrific. It was Shailja who gained me entrance twice previously to the Burj al Arab so to see both in the same day - not within this time - was a memorable day for both me and Mum.
We moved on to Delhi the following morning but were late in arriving as our plane was parked at the end of Dubai Airport and therefore required a twenty-minute bus ride. The journey was pleasant but I had a quiet chuckle at immigration in Delhi as Mum's visa on arrival was accepted easily and quickly whilst mine wasn't quite as straightforward. My fortieth visit and my wait was much longer than Mum's first. Anyway, we made it and spent our first two nights in India in Paschim Vihar close to my friend, Rajesh Kumar, and his family.
After locking herself into her room and finding the lock impossible to budge initially - I had taken the noise I heard to be workmen! - Mum's introduction to India wasn't unanimously successful especially after, at Rajesh's, baby Divyam started screaming when she picked him up. This apparent aberration was put down to not having had his milk but I thought that Mum did well. Was it really over fifty years that she had to handle another screaming child (who, I believe, was infinitely worse than Divyam)?
Our main day in Delhi was spent sightseeing. Rajesh had kindly arranged a local driver, Harkesh Shokeen,with an A/C car and came himself on our tour of all the highlights. First up was the magnificent Oberoi Maidens where I stayed many times previously until the rates increased beyond my budget. I had enjoyed many happy times there and, although some of the staff have now retired, the doorman, Kailash, still works there. It meant returning in the afternoon to see him and then interrupting his lunch but he remembered me and it was lovely seeing him again after almost ten years. Kailash, beturbaned and graceful in his impressive uniform, is one of the warmest and loyal people I have met.
Along Shanti Van and Raj Ghat, we visited the memorials/samadhis of India's first prime minister, Jawaharlal Nehru, and two of the Gandhi dynasty, Mohandas (Mahatma) and Sanjay. The memorials to Nehru and Sanjay are further away from the Mahatma's and are most tranquil. Mahatma Gandhi's samadhi is one of the most popular along this stretch - which includes Indira Gandhi's, her son, Rajiv, and another prime minister, Lal Bahadur Shastri - and attracts many visitors. An eternal flame on the black marble platform depicts the spot where Gandhi was cremated.
Although it hadn't been on our list, we ended up at the impressive Lotus Temple in the south of the city. This temple was completed in 1986, is one of Delhi's most-visited sights and is open to people of all religions. Not, I suppose, dissimilar to Sydney's Opera House but used for an entirely different purpose, Mum was very happy to have visited it despite the large crowds.
The Rajpath area which houses India's governmental and Parliament buildings as well as the iconic India Gate was our final stop. This is certainly one of my favourite areas: the spacious, green areas and general swag that the area affords is always most welcome when I am in Delhi. Khaki-clad soldiers around India Gate had to take their turns to have photos taken with visitors. Although we didn't stop at the North and South block Government buildings - being to the left and right as we drove up Rajpath, I was immediately bothered that the President's House directly in front would, to me, represent north so declared to Mum as plausibly as possible which building was the northern and which the southern: yes, I was wrong - it made an ideal area to stop near Connaught Place for some lunch.
I'm not sure that Mum was much taken by the ramshackle building in which we took our lunch but the food was terrific. Fortified, I went to change money and experienced fewer difficulties after November with the availability of current notes. The only problem was the rate and, for once bargaining, managed to earn slightly more than was being offered. When in Rome (or Delhi)...
During our stays in Delhi, we ate in the Radisson Blu Paschim Vihar which was close to the Neptune Residency where we stayed. The Level 2 restaurant serves Indian and continental food so all was well and the maitre d', Rahul, was impressive and a generous host. We ate well on all four occasions. The only slight issue returning to the Neptune was the crossing of the road which was another point which I am used to but Mum, remember on her first visit, was amazed by the roads and the sights. It taught me a lesson not to take cows, horns, rickshaws, cars on the wrong side of the road and people cycling with their livelihoods on the back of their bikes for granted. We made it across the road safely every time but I'm not convinced that Mum necessarily enjoyed the chaotic experience. Nor even when the traffic had ground to a standstill.
After a couple of nights in Delhi, we flew up to Amritsar with Jet Airways. It was a busy flight and I had even be unable to check us in the day before which, for a suspicious travel agent, gave me all sorts of negative thoughts. It was okay but we couldn't have seats together which wasn't a great problem as the flight was a very short one.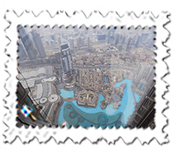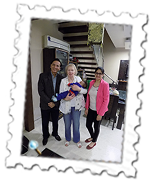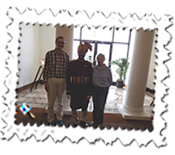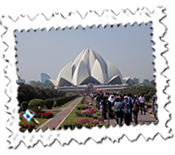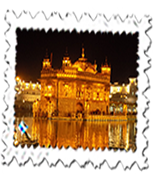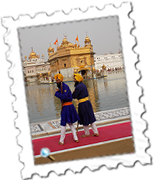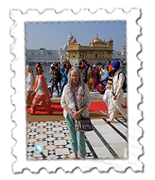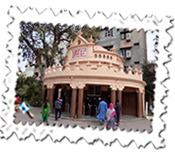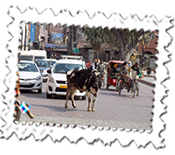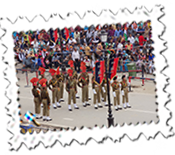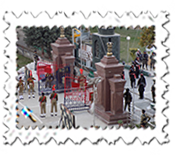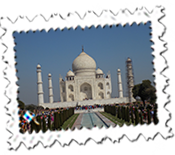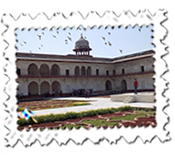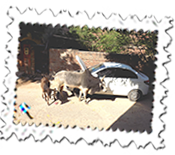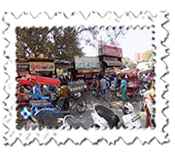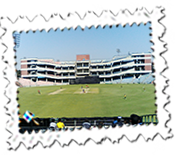 Oh dear, we did have one moment reaching the excellent CJ International Hotel close to the Golden Temple. For whatever reason, the taxi could not drop us outside the hotel - a point refuted later by the hotel - so we were dropped somewhere between 200 and 400 metres from the hotel but with no idea on which direction to set out upon. Autorickshaws asked for remarkable sums and were sent packing but a cyclist agreed to take us and our case for a reasonable price. Sadly, he had no clue where he was going and Mum's introduction to Amritsar through the squalid, bumpy and uneven back streets complete with barking dogs and aged Sikh men sitting outside their homes with pungent-spiced smells emanating from the kitchens, was not a happy one. It seemed an early return to England was possible but, five minutes later in the more comfortable surroundings of the CJ International, all had been forgotten and we had a good laugh.
As escort, though, it did my stomach no favours and, without going into further detail, all I can say is that the toilet kept releasing water and, in trying to rectify it, I managed to break it. A new cistern was required and I felt bad enough about it to offer some payment but it wasn't accepted. Yes, I know that I can be heavy-handed but, after watching all and sundry converge upon my room, I made sure that, on future visits to the bathroom, the flush was treated with greater respect.
The CJ International really is in the most wonderful position just a couple of minutes walk from the world-famous Golden Temple. This may be its main selling point but all the staff were most friendly and helpful and, although we might have preferred non-veg food, traditionally places around a holy site do not have it. We were more than happy to go without that evening given the superb location. The rooms, too, were excellent and Mum, liking a window, had a terrific view of the minarets overlooking the Golden Temple from her room.
I was quite chuffed to have encouraged Mum to go to Amritsar. Years ago, as a present, I had given my parents some place mats of scenes taken by me in India and I had always remembered Mum enjoying the Golden Temple most. It seemed entirely right to go there and she came away later from the holiday saying that Amritsar had been the highlight. I suppose, for me, two visits from my previous thirty-nine to Amritsar is a fairly low proportion but it has always been one of my favourite places. I had, of course, seen the Golden Temple before but never at night.
Which is what we did on our first evening not long after our arrival. The other plus point of the CJ was its views of life outside the hotel en route to the Golden Temple: pilgrims, Sikhs and many others went about their daily business and, although we once witnessed a fight, it was in general well-tempered and certainly fascinating.
The Golden Temple is incomparable really and certainly so at night. After depositing our shoes in the free locker rooms and washing our feet in the holy water outside the main complex, the views we enjoyed of the illuminated Golden Temple were formidable. I must admit to rarely having seen so many people there late at night - some may have been awaiting the Holy Book's nightly, if brief, exit - and a visit into the temple was not possible due to the crowds. It turned out to be the same on our two future visits on the days afterwards.
It was fascinating watching the devotees kneeling in prayer and dipping into the holy water. People of all faiths may attend and it was not difficult to see the impression it made on visitors of all ages. One temple guard took to the waters to move some fish along and chanting accompanied the hubbub of life of many colourfully-clothed people. Headgear is naturally expected and orange handkerchief-type arrangements are given. I had one from a previous visit ten years ago but was reminded to put mine on by a guard after carelessly forgetting to put it on initially. Some other visitors, noticing my otherwise inadequate tying of the garment, stopped me and kindly made a much better appearance for it!
It is no less impressive and busy during the day. During my last visit, I had not remotely remembered seeing as many people. It was a shame that we could not go to the temple due to the queues. Maybe we should have tried harder as it did move but nonetheless all three visits we made during our two night stay were memorable.
Another memorable place close to the Golden Temple is the infamous Jallianwala Bagh, not the greatest scene for the ruling British for, in 1919, a thousand Indians were killed after what was described as a peaceful protest. Certainly, ten years ago I was very aware of being a fairly rare white face in this area and I didn't feel that much more comfortable on this occasion standing by the Martyrs' Well.
Bargaining is a must in India and I felt rather ashamed of my first effort in the shops nearby. Well, it wasn't an effort at all as it was totally devoid of any intent when Mum wanted to buy a scarf. At the asking price of Rs100, I felt that it would be wrong to bargain for something so beautiful and caved in. Not the next day, though, when we returned for more and, more as a bit of fun without any serious negotiation, we bought a couple more for Rs80 each. Say nothing but they are now acting as very attractive curtains in my new office at home...
I was rather chuffed to receive a " for Heaven's sake, stop " from Mum for unreasonably offering a third of the asking price for a Sikh dagger. When the shop owners broke into some quiet - presumably - Punjabi, I suspected that they were asking who this fool was. I failed dismally but we had fun and we both went away empty-handed and I wasn't even pursued down the street either with a lower offer.
Another major reason for going to Amritsar is to experience the pomp of the closing and flag-lowering of the India and Pakistan border at Wagah. It's a well-known event and thousands descend daily to watch this remarkable scene. I have now been three times and cannot remember anything which has given me so much enjoyment in India. We did arrive too early and had to wait over an hour and a half and that after a few tourists including ourselves had been subjected to further checks.
One of my friends had described the border ceremony as a time when they feel patriotic. Many showed it with ladies of differing ages and shapes running with the Indian flag and, whilst the accompanying music blaring might have been uncomfortable for such a long time, I wondered if it was to drown out the noise from the Pakistani side. Fewer turned up on the Pakistani side as had been the case of my two previous visits but, although we were seated higher up to avoid the sun, we did actually have a terrific view of the gates so could see both sets of soldiers, the Indians in khaki and the Pakistanis in black.
It is a sight to behold. Around fifteen soldiers on the Indian side lined up and the fanfare started with two females starting the march down to the gate where the same would be happening on the Pakistani side. White lines mark the point beyond which they must not venture further. All the soldiers take turns their arms flowing highly even if some of the legs appeared very slightly stiffer and then turn back. The most remarkable sight was seeing them subsequently lift their legs almost horizontally to all but touch their heads and nearly crust themselves - Basil Fawlty's sketch looked seriously stiff and arthritic in comparison - before marching back usually after much gesticulating and furious stamping of feet at the end and standing more easily. This parade carries on for almost half-an-hour with further words exchanged until the flags are lowered, a theme on the Last Post is played and everyone troops off in high spirits.
Our driver, a genial, young Sikh, was happy to drop us off in the city where we had a non-veg meal with a drink. The food and service was excellent even if we had the distinct impression that our waiter was being surveyed somewhat coldly by his superiors. As he was good, we made a point of saying so to the overseers. Our driver was excellent and very grateful for a tip. As we had to make payment to the hotel who had arranged the car, we were a tad surprised the next morning to be asked details of what we had paid the reason given being that "the driver had demanded further payment." You never know...
After our last visit the following morning to the Golden Temple, we left by taxi which involved a walk to the parking lot. It seemed a bit extreme so I was glad that my bargaining skills hadn't been on the wane like the previous day but, as it happened, it was good as the car took a different route out which was quicker. I do, though, find Indian airports fairly trying. It is easy to forget to put one's baggage through a security check before even checking in and the queuing does seem to take time. You certainly wouldn't want to forget one prior check and be sent back to have it done before standing in the queue again. Admission to the airport wasn't easy either, our print-outs being deemed unsuitable as the confirmation printed from the Jet Airways website didn't helpfully mention that it was a Jet Airways flight! Anyway, we were not only given seats together but in the emergency exit row which was pleasant. The flight, though, was again delayed so there was further waiting about.
After a further night in the Neptune Residency in Delhi, we went off the following day to Agra with our driver, Harkesh, who was again excellent. Our route to Agra took us along the excellent and fast Yamuna Highway and, after a pit stop for a drink, we arrived in Agra in the early afternoon, the journey having taken four hours. We put up in the excellent Taj Haveli, just a few minutes from the East Gate entrance to the Taj Mahal. This refurbished former townhouse had lovely rooms, warm colours and the staff especially were extremely helpful and patient with our idiosyncrasies, a good breakfast was served and the same room offered a decent variety on the menu where Mum had her first proper Indian dish ( and enjoyed it). We enjoyed our stay there very much.
Wonderful place that the Taj Mahal is, I have always found its city, Agra, exasperating. Pardon the pun, agra-vating. There is simply too much hassle and, placid as I normally am however little I may feel it inside, I did lose my temper with one cyclist claiming to offer a good price for going a couple of yards each way up and down the road in his rickshaw near the hotel. Two hundred Rupees was probably ten times too much and so I savaged him verbally for trying to extort way too much from foreigners before telling him that I was "forty times India", not once. He still whimpered about it being a good price before I told him to get lost.
All the sellers are persistent and, on the next day when we visited the probably the world's greatest memorial to love, I cringed when another cyclist told me that, if we were without entrance tickets, we would be walking the wrong way and would be returning. Having offered his good price and been ignored by us, I could have screamed when I realised later on that he was totally correct and we had to retreat. He was inevitably hanging about, again offered his good price and said " I told you so." I couldn't disagree.
All this happened because Harkesh, in the car, had quite correctly told us that it would be better to walk to the Taj Mahal. Had he taken us, he may not have been able to park and, besides, it was just a few minutes walk but the ceaseless hassle didn't start it off well for me. Mum had relaxed with the assortment of animals around, attempted to pat a cow and been seen off somewhat verbally - not physically - which made me chuckle.
I have now visited the Taj Mahal seven times and it is always a wonderful sight. Mum, on her first, naturally was flabbergasted by its beauty and symmetry and, although one of the minarets was undergoing remedial work and surrounded by scaffolding which never suggests permanence or peace of mind, it was still a lovely sight. The weather was glorious and we did find comparatively peaceful places to sit and admire the mausoleum. Bad-tempered monkeys rattled the poles held in place by the scaffolding like irate children.
We moved on to Agra Fort which, in its own style, is beautiful. It is very big and enjoys terrific views of the Taj Mahal across the Yamuna River. The only issue was not being able to buy the cumulative ticket for all of Agra's attractions should one visit on the same day. If it is available, no-one was saying how to buy it but, anyway, both visits were memorable.
Equally memorable was asking Harkesh to stop along Fatehabad Road to change money and visit the wine shop. Unfortunately, he brought along a friend which made my heart sink when the chap insisted on showing me a money changer which I had already seen. All it meant was that your introduction means a commission to the introducer and hence lower rate to the buyer. I have suspected that rate boards have been changed when a dealer has known of a tourist coming but this one would have had no chance but the rate of Rs72 was very low. I tried on that I wanted the Sterling rate not US Dollar.
Anyway, having told the changer that I was settling on nothing les than Rs80, I managed this quite comfortably only to fall foul of their commission charges. I had this lowered by two-thirds also but it does make one wonder what on earth a fair and correct rate is and should act as a salutary lesson on not to accept the first rate/price given. I went to the wine shop and told the chap I was giving him Rs300 for two beers even though he had asked for Rs320 and was surprised when he accepted it.
We had a busy day when we left the following day but sadly the battery packed up when we climbed into the car. Taj Haveli staff were called and seemed to enjoy pushing the car up and down the fairly narrow road but to no avail. They weren't helped at getting a clear and fuller run by a slumbering cow half way along which naturally couldn't be disturbed. A chap who looked anything but a mechanic came and sorted it out and, although we were an hour late in leaving, Harkesh made up some of the time and we were back in Delhi after three-and-a-half hours. He had been an excellent driver and a thoroughly nice man.
One of Mum's wishes had been to go to a market so we went to Paschim Vihar's Jwala Heri. It is only a five minute ride from the Neptune Residency so I took the dreaded executive decision and hired another cycle rickshaw. It didn't help that the rider, despite my telling him not to, took us initially up the wrong side of the road so facing the oncoming traffic. When I saw my fellow passenger's clenched teeth, gripped hands on the bicycle's frame and lowered head, son realised that cycle rickshaws are not the mode of transport for the next visit...
Anyway, the trip survived, we had an enjoyable time buying fruit, a kurta - pyjama - for me, a scarf, drinking juice, taking photos - including cycle rickshaws - before returning to the hotel. It is a bit of a melee in the market but Paschim Vihar does have the benefit for foreigners of people not seeming surprised at the presence of a white person. It is a comfortable area.
We met my put-upon web man, Karamjeet Singh, who is a fund of knowledge. I have benefited from his knowledge previously as did Mum on this occasion. He kindly took us to the Radisson Blu for a quick bite before we went to Rajesh for his usual kind hospitality. Unfortunately, we made the mistake of ordering two sandwiches which were vast and, being the ever-diligent son, I couldn't refuse mother's request to help her out. We left most of one and I was completely full and not a little tense before Rajesh kindly served bottles of ice-cold Kingfisher. Mum and I both failed to adequately do justice to Rajesh's subsequent kind meal. I suppose, though, it's better to be too full than too empty.
Our last day was spent at Delhi's main cricket ground, Feroz Shah Kotla. We were lucky that a match was being played there and were surprised not only to find around forty spectators - I had expected fewer for a more minor domestic tournament - but that there were two other white faces watching. Some Punjabi supporters wanted to talk and have photos with us - a peculiar Indian trait which happened three or four times during the holiday - and my first match of the year as a spectator was pleasant. It was just above where we were sitting that, eleven years ago, I had acted as a statistician with Rajesh for the India and England ODI. I was satisfied that Mum had seen many aspects of India which possibly travellers on package tours may not necessarily see.
One less savoury aspect which she did soon afterwards see was at the airport where the Emirates staff told us that we had "non-stoppable" tickets and, despite staying overnight in Dubai, could not collect our bags at Dubai. I suspected that it was nonsense and told them so but was told to speak to my travel agent, a familiar fob-off. Telling them that I was the travel agent, the chap smiled realising that that avenue had been closed down so tried different ways and suggestions. None worked, none was ever likely to work and an hour was wasted and the only way we could take our bags was to pay £125 for changing to a "stoppable" ticket so we stayed in a hotel in Dubai whilst our bags languished in the airport. I made it a point of honour to ascertain that this was wrong and was pleased the next day to be told by an Emirates employee that, yes, it was and that, as I had also suspected, the staff at Delhi are not fully-fledged Emirates employees and only employed by the airport. It is a shame if others fall foul of these people's perceptions as it tarnishes the excellent reputation which Emirates has deservedly built.
The flight was nice but, due to a long taxi, we were late in leaving. Mum nudged me and asked if we had taken off, I said yes thinking that we surely must have during my doze and was mortified to see that we still hadn't managed it. Naturally, we were quicker out at Dubai and, although the taxi driver couldn't find the Hotel Versailles, we did make it at a fairly reasonable time. The Versailles is a terrific place with thoroughly decent rooms, a nice restaurant and friendly staff. Okay, they insisted on giving us interconnecting rooms which made me wonder if, at the age of fifty-one, the child is still within me... I'm not sure which of mother and son took charge that night but we thoroughly enjoyed our stay there.
Our flight back to Heathrow the next day was just after midday so we had ample time to shop. Being a bloke, window-shopping is manageable but, with some Emirates Skywards points about to be forever lost unless shortly used, I was pleased to clank around with the duty free gin allowance and chocolates and pay just £15 for both of us. It struck me as a good deal and one which sent me happily to the excellent Emirates ICE system and reminisce on a very good holiday whilst listening to the old 70s Number One hits (and a little Rachmaninov).
We were very grateful to my colleague, Mark Kingstone, for kindly coming from Swindon to Heathrow to collect us and take us back home ensuring that we arrived at an earlier time and a better state of mind before, in my case, returning to the office early the next morning.